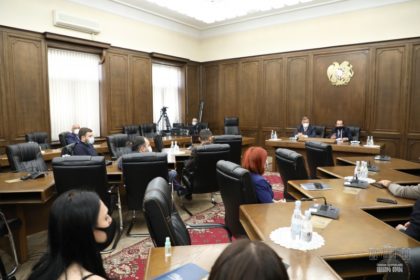 On November 5, at the joint sitting of the RA NA Standing Committees on Financial-Credit and Budgetary Affairs and on Regional and Eurasian Integration moderated by Arkady Khachatryan and Mikayel Melkumyan issues concerning the relations with the EEU and regional other countries designed by the RA law on the RA State Budget for 2021 were discussed.
The RA Deputy Foreign Minister Shavarsh Kocharyan has touched upon the Azerbaijani-Turkish-terrorist aggression against Artsakh Republic and has stressed that the solution of the main problem is on the battlefield, as every country has its permanent values and they relate to everybody. "To pin hope that any country can fight for you is destructive. We shall solve our problems," the Deputy Foreign Minister said.
As he assured, in 2020 the activities with the EEU countries, as well as Georgia and Iran continued, and in 2021 would continue. The Deputy Foreign Minister underlined that the relations of our country with the last two states had not lagged behind.
The RA Minister of Economy Tigran Khachatryan has stressed that professional activities are carried out in the EEU frameworks. In 2021, the Agreement on Free Trade with Serbia will be called into life, which will create favourable conditions for the Armenian side for the consumption of the goods on the territory of this country, and which are competitive in the international market. In 2021, the works connected with signing contracts on free trade with Singapore, the Islamic Republic of Iran and Egypt will continue.
The rapporteurs also answered to the MPs' questions.